Flex like the reed or fall like the oak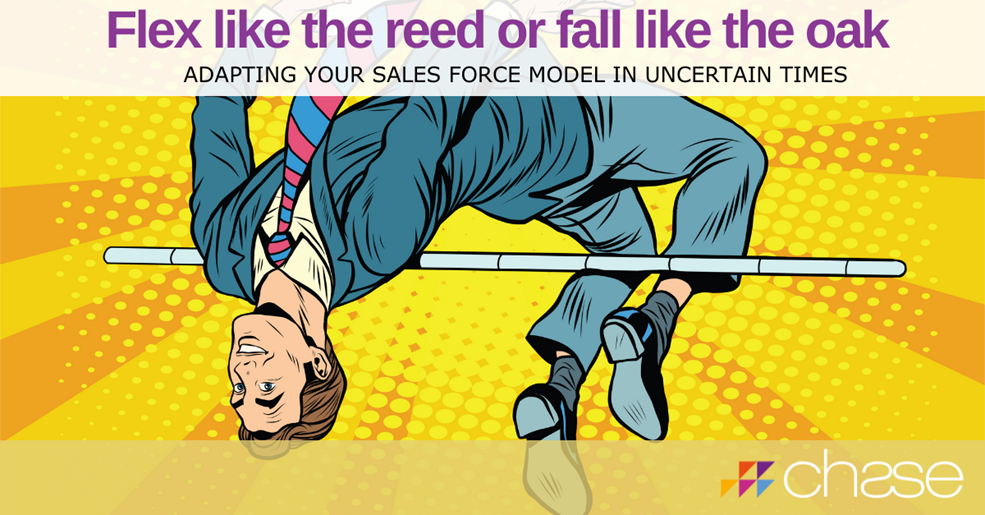 "A reed before the wind lives on, while mighty oaks do fall" (Chaucer. Troilus and Cresyde. 1387–1389).
Perhaps Chaucer was on to something when he penned these words. 
Of course there have been other versions down the centuries: "better to be a windmill than a fence in a storm" comes to mind but the point is still the same; when things get a bit rough your chances of making it out the other end tend to be increased if you are prepared to be flexible, adapt and give a little!
Navigating the perfect storm requires adaptability
The pharmaceutical press and social media sites are full of "thought leadership" articles, erudite and downloadable content offering surveys, polls and all manner of insights into what is going on – all presuming to know what healthcare professionals really want. 
The truth of the matter is nobody knows for certain what is going to happen over the next few weeks and months, let alone the next few years. 
A perfect storm has been brewing for some time. If Brexit, NHS 10.0(!!), increasing patient expectations, an ageing population and the digital revolution weren't enough, we're now living through the biggest public health crisis in living memory with Covid-19.
So, what has changed? Two words – A LOT! Here are just a few facts from the NHS:
More than 90% of GP appointments were online in April 2020 compared to fewer than 5% in April 2019[1].
1.25m healthcare workers in the NHS transitioned to Microsoft Teams in a matter of weeks. This was planned to be achieved over the next 3-5 years![1]
Patient care has been interrupted on a massive scale resulting in fewer visits to clinics and delayed diagnoses, amongst other things.
And what about the Industry? Well as you would expect there has been much to contend with including:
A dramatic fall in the number of meetings with healthcare professionals overall.
An increase in virtual interactions.
If you can survive the storm by adapting to the changes thrust upon you, then you stand a far better chance of thriving and building up resilience ready for the next boulder that gets thrown into the water.
-----
[1] Dr Peter Carter OBE, NHS Pathway Improvement in the New Normal: Implications for Industry - Integrated Care System Focus: A Webinar by Soar Beyond on 1 July 2020
Key questions to evaluate your flexibility
To keep their heads above water, field-based individuals and teams need to ask themselves:-
How relevant am I? Do I possess a deep and meaningful understanding of my customers' changing world and how my product and service helps them?
How curious am I? Do I ask enough questions and am I brave enough to stay silent for long periods to listen to the answers?
How is my personal resilience or "bouncebackability"? Do I know where to get support?
Is my digital and technical proficiency good enough?
As the field role develops into that of a central conductor who orchestrates a blend of approaches with the customer, are my collaborative skills fine-tuned enough? 
Flexibility is key in turbulent times
If field teams and organisations are to continue to move from 'survive' to 'adapt and thrive' mode, then a long-term strategy to build flexibility into the field organisation may be appropriate in these turbulent times. Building in greater flexibility and strategically outsourcing may help companies to:
Mitigate risk and manage uncertainty – neither of which are likely to be going away any time soon.
Deploy resources in uncertain or more competitive markets.
Manage product and portfolio lifecycles without fixed resource affecting the ability to transfer people rapidly.
Utilise temporary vacancy cover (sickness, secondments and maternity leave etc.) for important territories without the need for fixed headcount resource.
Take a more tailored rather than a one-size-fits-all approach because of the uncertainty of the move to greater localism in the NHS.
Manage the risks associated with product launches in such uncertain times.
Provide expertise to assist the NHS in tackling the burden of interrupted care for those with chronic diseases through the provision of flexible clinical resource e.g. nurses.
Recruit flexible people who can switch channels and engage with healthcare professionals on their terms.
Raise the bar on in-field performance overall by challenging existing practices and norms.
Utilise pilot schemes flexibly to compare what works and what doesn't under a "try before you buy" agreement.
Spot talent and develop a pipeline of people without the burden of permanently recruiting for a period whilst you assess in role and pick the best.
So, ask yourself:
How well equipped are you to withstand these troubled times?
Do you have the right amount of flexibility in your sales force?
Above all – as Chaucer might ask – is your sales force a reed or an oak? The answer might surprise you and determine your future!
Interested to find out more, please contact Steve Clarke on steve@chasepeople.com | 07791 262626 or contact CHASE on connect@chasepeople.com | 0131 553 6644
Additional