Hassle-free outsourcing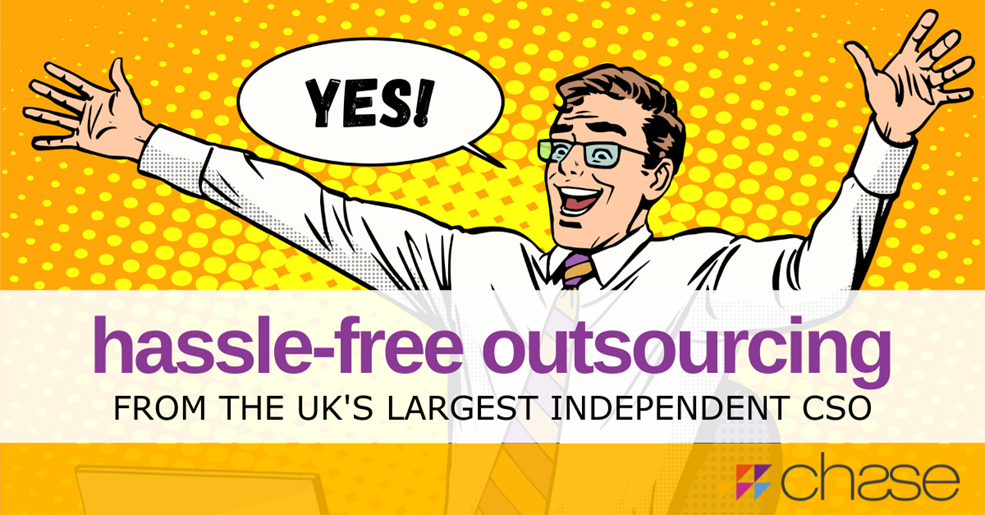 Hassle-free outsourcing
Are you looking for new ways of engaging with your healthcare customers? Ways that are appropriate for this new virtual environment? Want solutions in place quickly that will make your job easier?
You're in the right place!
We deliver personalised customer experiences that make your outsourcing quick and hassle-free with high-quality outcomes. It's all built on our outstanding heritage in recruitment high-quality people.
Our services include:
Outsourced solutions to optimise product use and enhance customer engagement
Outsourced solutions to partner effectively with the NHS
Outsourced solutions to deliver clinical evidence
So why choose CHASE?
You'll get fast, flexible and effective service thanks to our experience and independence. We're the largest independent CSO in the UK with 22 years' experience and employing more than 350 people. Our independence means we respond quickly and flexibly to your needs and those of the NHS. We'll find you top talent in the trickiest of territories because our recruitment team is the most experienced in the UK with a regional network.


You'll strengthen your engagement quickly with the NHS with our omnichannel representatives and healthcare engagement roles. Why switch teams when a doctor wants to switch channel? You don't need to with CHASE. Our omnichannel representatives flex with ease between face-to-face and digital channels at short notice to suit HCP needs. You'll also be able to increase NHS capacity quickly with our contract healthcare engagement roles including nurses, healthcare assistants, pharmacists and others.


Our hassle-free outsourcing will enable you to focus on your business priorities. It's a big claim and we're confident we'll deliver. With CHASE, you'll have flexible, consistent, motivated teams focused on results because we really care for them. You'll find our systems effective and really easy to use. Your queries will be dealt with within 1 hour thanks to our highly experienced, responsive project managers.
Interested to understand more about how our hassle-free outsourcing can help you? Email us at connect@chasepeople.com or call 0131 553 6644 and we'll be delighted to share our expertise.
For more information, please click here.
Additional