World Menopause Day 2022
On 18 October 2022, CHASE is marking World Menopause Day. We are proud to have an open and honest culture that supports all conversations and employees, including those going through the menopause.  
CHASE has a workforce that is 69% female, with 60% of the females in the company over the age of 40 years old. Women over the age of 50 are the fastest growing segment of the workforce, and most will go through the menopause transition during their working lives.
For every ten women experiencing menopausal symptoms, six say it has a negative impact on their work.  Research from Bupa has shown that almost a million women have left their job because of menopausal symptoms such as hot flushes, night sweats and increased anxiety, while others are forced to take long-term absence from work to manage symptoms.
Yet it remains a taboo topic in many workplaces. Women will continue to suffer in silence unless we break the stigma and start talking openly about the menopause at work.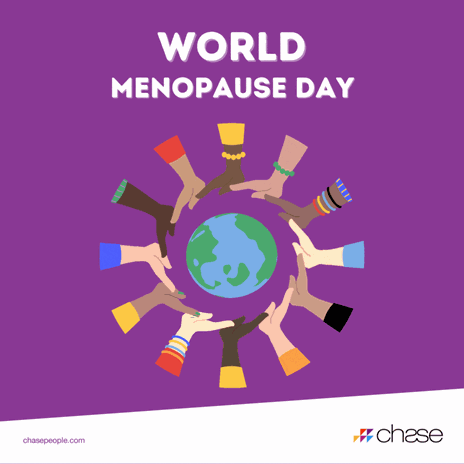 Every employer has the obligation to look after the health and wellbeing of its employees and in relation to the menopause specifically:
To understand and reduce the barriers that could potentially prevent a colleague going through the menopause transition from performing and/or developing to their full potential 
To identify appropriate workplace changes or adjustments to support team members and help them thrive at work 
To foster an inclusive working environment in which everyone is treated fairly. 
Some women go through the menopause with little impact on their daily life. But others experience symptoms that can last for several years and have a negative impact on their performance and attendance at work. A bad night's sleep can affect concentration, for example, while heavy periods or hot flushes can be physically distressing and embarrassing. The psychological effects can also impact relationships at work. For some, the symptoms are so severe that women are forced to leave their job altogether.
Please see the below helpful links and organisations who focus on supporting those experiencing menopause:

The NHS: https://www.nhs.uk/conditions/menopause/
The British Menopause Society: https://thebms.org.uk/wp-content/uploads/2020/04/07-BMS-TfC-Menopause-and-the-workplace-APR2020.pdf
Menopause Matters: https://www.menopausematters.co.uk