Looking for high quality temporary vacancy cover?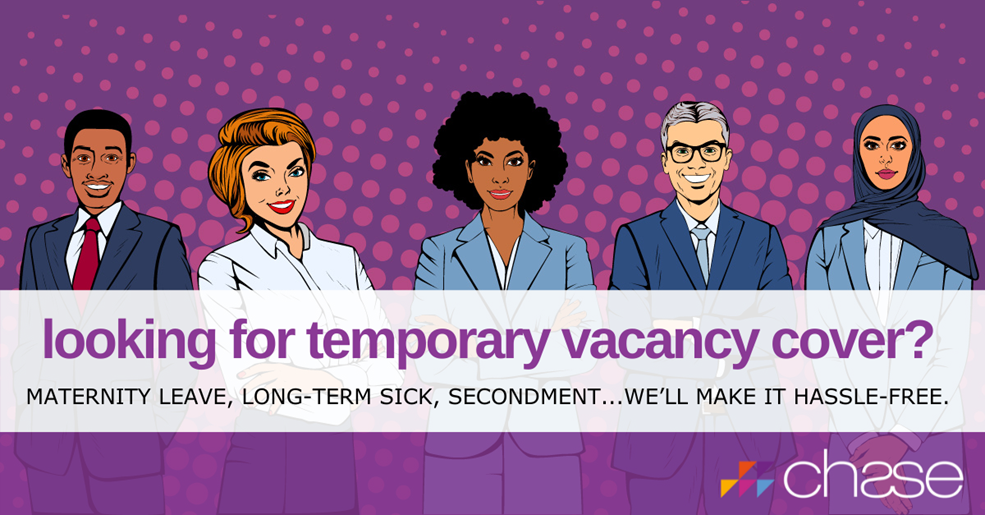 Are you looking for rapid, temporary cover for someone in a sales or marketing role who is on secondment, long-term sick leave, maternity leave or has left the organisation at short notice?
Using your internal HR resources to find a replacement can take time.  There's all of the additional training and onboarding to take care of too which can be costly and time-consuming.
Temporary vacancy cover (or vacancy management) could be a helpful solution for you.
Why consider temporary vacancy cover?
here are 5 key reasons why temporary vacancy cover could be the right solution for you and your company.
1. Manage your risk
Temporary vacancy cover finds you high quality candidates for important roles without exposing you to the risks and uncertainties regarding the impact of Covid-19.
2. Take the pressure off your internal HR department
Temporary vacancy cover also helps to take the pressure and workload off your internal HR departments by outsourcing the recruitment and onboarding to a third-party vendor like CHASE. This is often welcome during 'normal' times, but your colleagues may be particularly appreciative of this when there is so much large-scale change to manage across organisations at the moment.
3. "Try before you buy"
While temporary vacancy cover is normally used to fill important roles on a temporary basis, it can also be used as a "try before you buy" service where a role could become permanent. This gives you time to assess potential candidates when they are 'in role' before making a long-term recruiting decision.
4. Flexible arrangements to meet your needs
It enables you to select and hire someone for as long as you need them, depending on the reasons for why the role is vacant in the first place. At CHASE, we can offer you flexibility to suit your needs and the specific requirements of the role.
5. Make it hassle-free
CHASE offers full back office, employee support and packages matched to your particular needs for the role and your organisation. This includes full, paperless project management support for your recruit, such as provision of a company car, salary and expense payments, credit card management, provision of mobile phone  and annual leave requests.
Why choose CHASE?
1. Work with the most experienced recruitment team in the industry
After 22 years, we have an enviable reputation for finding (and retaining) the highest quality candidates in the pharmaceutical industry for either short or long-term vacancy management positions.
2. We deploy rapidly
Speed is often of the essence when you need to fill an important temporary vacancy. CHASE has the agility to respond rapidly to your needs and provide you with high calibre people. See our case study below for an example where we filled 9 important vacancies over a 6 month period – each vacancy taking less than a month to fill, from brief to deployment.
3. We attract high-quality candidates
At CHASE, we offer temporary vacancy cover recruits permanent offers of employment rather than fixed-term contracts. This certainty for the recruit, combined with our significant recruitment experience, helps us to attract the best talent available for you.
4. Make onboarding quick and easy with our simple systems and processes
Your new recruit will be set up with everything they need quickly, efficiently and as paper-free as possible. 93% of our outsourced employees say their issues once in role are dealt with swiftly and efficiently by our Head Office team. This takes the work away from you and enables your new recruit to get started as quickly as possible.
5. Your recruits will be supported by our dedicated and experienced operational Project Managers
Our project managers are all experienced ex-pharma managers who build relationships with your recruits to make them feel valued. 87% of our outsourced employees say the level of support from the project management team is good or great, and 99% say the same about support from Head Office. We provide access to high-quality training, coaching and development programmes so your recruits know they're progressing in their career with us.
6. We'll look after your recruits' wellbeing and mental health
We take the mental health and wellbeing of our people very seriously. Our Project Managers have regular update meetings with their teams offering early intervention for any issues identified. Where specialist expert support is required, our people have access to a high-quality Employee Assistance Programme offering 24/7 confidential support services by phone, website and mobile app.
7. Our employee engagement and industry endorsement is outstanding
We genuinely care about people, so we build relationships to look after our teams. 87% of our outsourced employees rate positively the feedback, training and development they receive from us in their role; 93% say issues are dealt with swiftly and 98% would recommend us to a peer. We've been voted CSO of the year twice by the industry's representatives.
8. Administration is hassle-free for you
You'll have access to our dynamic administration system, Cascade. This flexible, hassle-free, secure software simplifies HR management, allowing you to save time, increase engagement and have a real-time view of your recruit(s). It makes absence reporting and expenses simpler with easy to use dashboards and reporting tools with up-to-date people data you need each day.
Temporary vacancy cover – a case study
Situation
Our client had secured NHS contract bids for 2 years for their products and services. This limited timescale to generate sales meant they couldn't afford to operate with temporary gaps in their Sales & Marketing teams.
Their existing recruitment process brought people into the organisation on headcount following a strict protocol. It took significant time and resource to fill vacancies and the organisation needed a more agile and rapid way to fill these positions with high-calibre people.
Solution
CHASE introduced an alternative option, deploying a temporary vacancy cover solution. This included access to highly capable, motivated and mobile graduates from the CHASE Graduate Academy.
Result
Over a 6-month period, 9 gaps across Sales & Marketing were identified across 2 Business Units

100% of these vacancies were filled
From brief to deployment, we filled all vacancies in less than a month
Many of these people have since been taken onto headcount – a further endorsement of the calibre of CHASE recruitment and the effectiveness of a temporary vacancy cover solution.
If you have a temporary or permanent vacancy you need to fill, we'd love to hear from you. Please contact us on connect@chasepeople.com or by calling on 0131 553 6644.
Additional