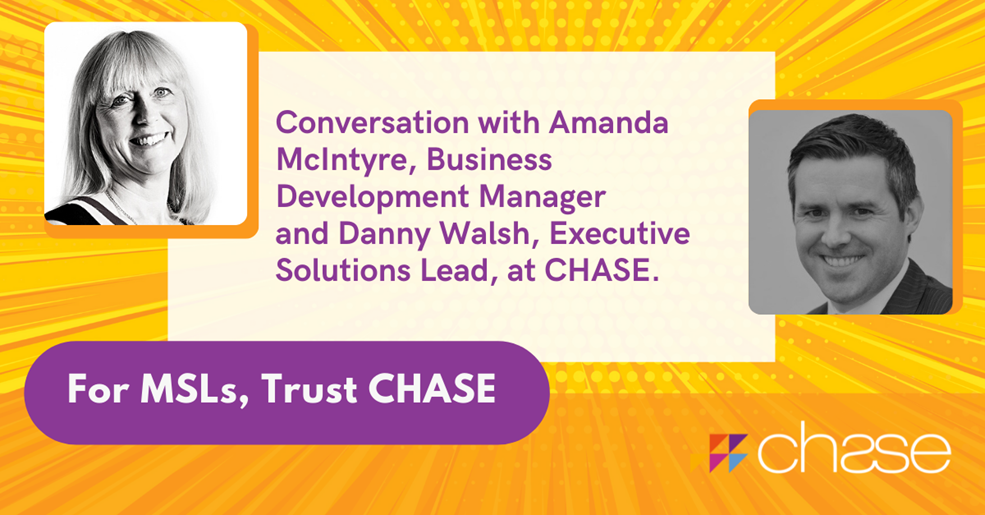 Conversation with Amanda McIntyre, Business Development Manager, and Danny Walsh, Executive Solutions Lead. 
Q – What is driving the growth of MSLs?
Danny: The role of the MSL is one of the fastest growing in the pharma industry. This growth is being driven by the need to communicate increasingly complex scientific information associated with innovative product portfolios, and also by the development of personalised medicines with new modes of action.

Amanda: At CHASE, we are certainly seeing an increase in demand for MSLs. Having scientific information conveyed in the form of a "peer to peer" conversation is highly valued by HCPs.
Q - What does a good MSL look like?
Danny: The skills required have also evolved and we are now looking for candidates to have not only a strong academic background, but also outstanding communication skills and the ability to build strong relationships with HCPs and their internal colleagues. Having the potential to develop into a product expert and possessing the confidence to lead on scientific discussions and the dissemination of trial information is also important.
Q - Why is CHASE best place to get you a permanent or contract MSL?
Amanda: CHASE has been working closely with a range of companies, start-ups through to big Pharma, across therapy areas recruiting MSLs on both a permanent and contract basis. We have the experience, knowledge and network to be able to identify and attract top quality candidates, both experienced and new to role, who will be highly successful MSLs in 2021 and beyond.  Ultimately, it's about clients needing exceptional MSL candidates and CHASE can confidently deliver these.
For more information on our MSL solutions, please contact Amanda McIntyre or Danny Walsh on 0131 553 6644 or connect@chasepeople.com
Additional